Baking pancakes in russian oven
Pancakes are one of the most popular and well known aliments of Russian Cuisine. Pancakes appeared well before the IX century, and in pagan times were associated with sun worship. Their Russian name Mlyn is derives from the verb "to grind". Like most Russian dishes pancakes are cooked in a traditional oven. However, unlike bread and many other dishes, they are baked at a constant, and not falling temperature, with a fire in the bake chamber.
The Russian Oven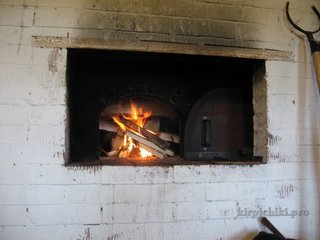 Before baking the oven, in this case the variant known as
Teplushka
, must be brought up to temperature gradually to avoid the destructive effect of thermal shock. To do this, a small priming fire is lit, just inside the loading opening, with 9 to 12 sticks.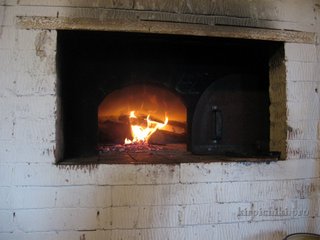 After 5 to 10 minutes the whole crib is carefully pushed back into the last third of the bake chamber with a wrought iron tool designed especially for this. Larger pieces of wood are added and the fire left to burn for about 40 minutes after which the wood load will collapse and the embers can be raked into an even bed.
The Pan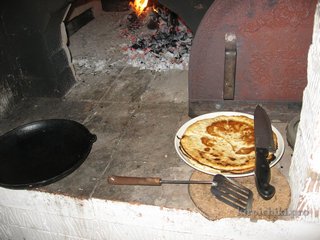 Traditionally a flat cast iron pan is used for pancakes. The pan is never washed, just whipped clean with an oil or fat impregnated cloth as washing would remove the accumulated oil from the pores of the cast iron, causing food to burn and stick to the surface.
Recipes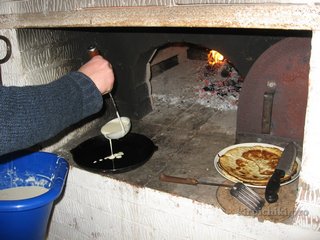 There are countless recipes for pancakes, but they can be divided into two groups, those containing and those not containing yeast. Traditional pancake mixes contain yeast. Mixes without yeast called 'fast' recipes contains baking soda as a rising agent. Many variations of the traditional recipe can be found in the remarkable book: 'National cuisines of our folks' M. 2006 by chef and historian V. Pokhlebkin.
Cooking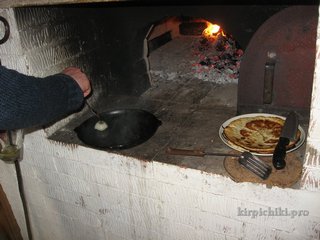 This is quite a simple process. Oil or Ghee is applied to a hot pan using half an onion or potato. If an onion is used the half with the roots is preferable as it will not fall apart while being used.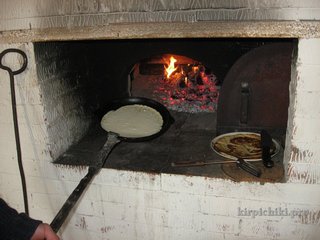 The pan is rocked and rotated using a specialized handle called chapel'nic or skovorodnic, in order to have the mix flow over its whole surface, and then placed upon an even bed of coals.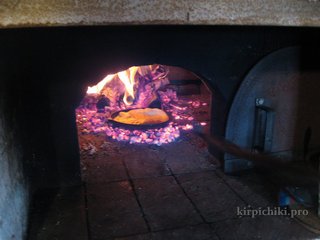 The rest happens automatically. The bottom of the pancake is cooked by the conducted heat of the embers and the top by radiation from the bake chambers vault. This makes flipping unnecessary, the pancake being evenly cooked in 1 to 2 minutes. It is important to always have a couple of pieces of new wood burning on the ember pile, just behind the cooking are. This assures the constant temperature of the vault, avoiding uneven cooking.
Pancakes in a Russian Oven. Training video, 2:15.
Pancakes made by Slavic - the stove master with a creative approach.
Email: Mistislav.Izotov()yandex.ru.
Autor: A. Batsulin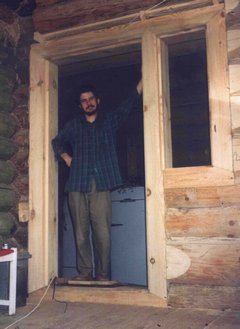 Александр Бацулин
Родился в Москве 07.09.1976. Закончил Химический факультет МГУ по специальноси Химическая кинетика. Печным делом занимается с 2000 года. Интересы: строительство и проектирование печей для отпления индивидуальных домов. Традиционное деревянное строительство. Тел. 8 (915) 169 1733 &nbsp &nbsp &nbsp &nbsp 8 (950) 259-6401 e-mail: sashbats (а) mail.ru